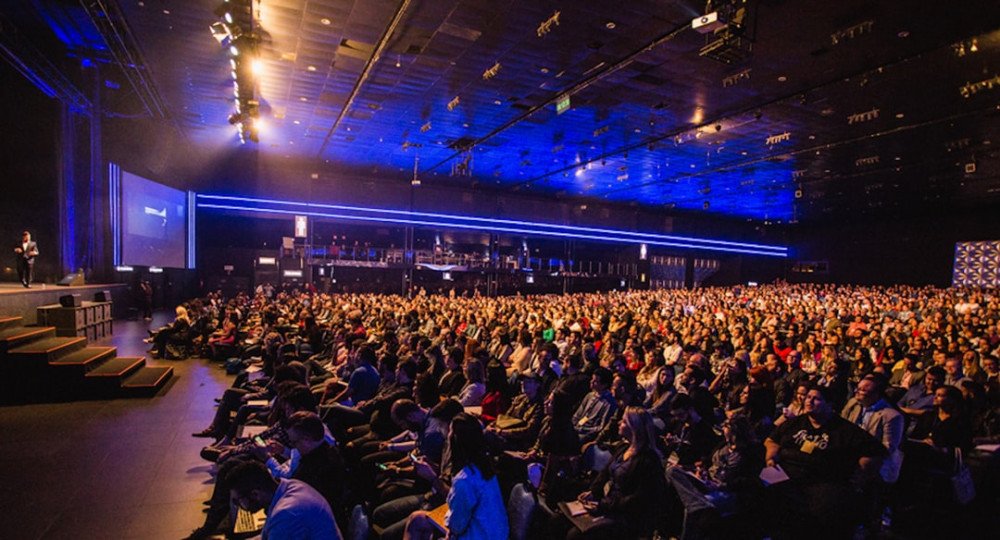 2020 Angels & Entrepreneurs Network Retreat Recap And Review
There's no shortage of events that you can attend when it comes to making money, building a business, investing, you name it. Angel investing is no different. Actually, it kind of is. At least right now.
For most of us, angel investing is entirely new. As such, resources and related events are still pretty scarce. To help introduce this powerful investing opportunity to the masses, the Angels & Entrepreneurs Network (A&E) was born. You've probably seen their ads on Facebook and whatnot. Maybe you're even a member.
To add another level to the whole experience, A&E decided to have an in-person event, the Miami Retreat. This allowed about 300 people to come together and network in person, learn about angel investing, see a few companies pitch their opportunities, and more.
I attended this event and even stepped up on stage (although briefly) to talk about local chapters, as I am the host of the A&E virtual chapter.
As of this writing, it's been about a week and a half since the first A&E retreat event, and I wanted to share my experience and give you an idea of what the whole thing was about. It's taken me so long to write this review because, since I was already in Florida for this event, I had to take a side-trip to Disney World as well, and then there was the whole catching up thing when I got back home.
Now that I'm back, I can sit down and write this 2020 Angels & Entrepreneurs Network Retreat Recap And Review.
Let's get started…
THIS POST MAY CONTAIN AFFILIATE LINKS. PLEASE SEE MY AFFILIATE DISCLOSURE FOR MORE INFORMATION.
What Was The Goal?
Now, I'm not an employee of A&E or their parent company, Money Map Press. Yes, I do host the virtual chapter meetings, but that was because I asked to do so, to bring together members who don't have a local chapter near them or simply want to share with a broader base that what may be available locally. That said, I don't know A&E's goals directly; I can only make a few assumptions…
To Set Up An Environment Where Members Can Meet Face-To-Face (Networking)
Now, this is really the meat and potatoes of the event. Members could meet other members, founders, and investing platform representatives. They also had the opportunity to meet much of the staff that keeps A&E running. Of course, this also allowed the A&E staff to meet the members as well.
Allow Members To Meet And Hear Pitches From Founders
Most members joined Angels & Entrepreneurs to learn about investment opportunities and make money. Meeting the founders looking to raise funds and having them pitch to you live has quite an impact on your overall impression of an opportunity.
Inform Members Of Other Potential Money-Making Opportunities
A&E's parent company, Money Map Press, has other money-making opportunities available, and this event offered a targeted platform to share them with current members.
Summary
In short, the three main goals were to facilitate networking, promote opportunities and communication between investors and founders, and grow Money Map Press's memberships and revenue.
Let's break each down. We'll start with Networking…
Networking
Networking is essential to so many areas of life. In business, teams collaborate to get things done. Sales is 90% (yes, I just took a stab at a number) who you know. Even animal rescue shelters network with one another to save an animal's life. These are only two random examples of networking. Angel investing is no different. Networking is an essential part of it.
If you're a member of A&E, I'm sure you've heard Neil talk about deal flow. It goes back to that old saying, "It's not what you know but who.". Many of the truly amazing deals come from private deal networks (who you know) and may not be found on the public crowdfunding sites. If you want to get in on those exceptional opportunities, you need to start networking and building your trusted contacts.
Events such as this one, give you that chance to meet others who might just become members of your circle of trust. If you build the connections, you increase your odds of finding that one investor who can seem to do no wrong or another that might hear of a deal that's perfect for your investing strategy, etc.
It's not only about deal flow either. Networking gives you insights you might not otherwise have. Take a live pitch I saw during the A&E event. BioCurity Pharmaceuticals Inc. was all about a new way to protect healthy cells from being damaged by radiation therapy while still allowing the treatment to destroy infected cells. I'm not a doctor, and the process is way above my pay grade.
Thankfully, I was sitting right next to a doctor at the event, and he even treats his patients with radiation. He was all over this opportunity and asking questions I simply didn't understand. After the presentation, I picked his brain and asked him if he understood the process, if it made sense, did it seem to be a viable solution, etc.
Because this was in his wheelhouse, and he knew exactly what the presenter was talking about, I was able to make an informed decision on the spot. That's the power of networking.
Not only did I collect quite a few business cards, but I also handed mine out to almost everyone I talked to. I even shared SABR's information on the back because I genuinely like their due diligence service and believe it can help anyone interested in angel investing.
Networking is vital, and this event did not disappoint.
Next up, the pitch…
Meeting Founders and Pitching
There were quite a few founders at this event. Some were from the crowdfunding sites, such as StartEngine and Republic, others were from past and current A&E deals, like AppApp, Caribu, and Digital Dream Labs, and even some newbies hit the stage, like the medical one I mentioned above. There were more, but this review isn't about a total recollection of every presenter at the event.
I have to say; I didn't invest in AppApp or Caribu when they first came out but, after seeing their pitches live, I did jump in on AppApp. Sadly, Caribu was already closed, so I wasn't able to do much on that end.
It was nice to see what the crowdfunding platforms have planned for the future. It gave me a view I would otherwise not have. Many were happy to share their future plans and timelines regarding new features, services, and whatnot. It was quite eye-opening.
I have to say, the pitches came in at a close second to networking, as far as rating the different aspects of the event. A&E also passed out evaluation forms for taking notes and making sure to check all your due diligence boxes during the presentations, which came in handy.
Of course, when you have a captive audience, it's hard not to push your other products and services. Enter the other potential money-making opportunities…
Other Potential Money-Making Opportunities
Angel Investing wasn't the only thing presented and discussed at this event.
Money Map Press
So, now you know that A&E is a smaller part of a much larger company, Money Map Press. Business practices dictate that your company's other products and services be touted whenever possible. That was the case here as well.
Two, well three really, other Money Map Press services were shared at this event. I'll briefly touch on them here:
The 1450 Club
This was kind of interesting. Now, don't quote me on this, as I might not remember this quite right but, the 1450 Club is a trade recommendation service where you spend one hour a day, four days a week, following the recommendations of the club. Subscribers are told what to invest in (and shown in real-time) and when to invest daily, as well as alerted when to sell and take profits.
The premise is sound. There's a proprietary algorithm that scans trades and tries to determine what the big players are doing and recommends that you follow suit. The idea is that these big players are trading on insider information, and, by following suit, you can profit from their knowledge. The hard part is, not all trades scanned will be from those big players, so not all trades will be spot on.
My honest opinion of this was that it sounded too good to be true. Now, I was sitting next to a lady at the time of this presentation (I tried to change my seats around so that I could network with more people between presentations). She's a member, and she told me that she took $200 and made it $3000 in about 30 minutes.
That's some impressive results. She did say that she had losses too, but her wins more than made up for them. She also let me know that she bought in at the lifetime level, and it was quite a large sum, so I don't know if she's actually profitable if you account for everything or not.
Still, I've put a lot of money into angel investing, and I simply don't have the time or financial resources to take on another "opportunity", so I chose to pass on this one, for now.
Cannabis Ventures
Another Money Map Press service revolves around the budding and booming cannabis market.
I can see the attraction for this and understand how setting up a program focused solely on cannabis opportunities makes perfect sense. The problem for me is that there's so many potential opportunities here, and there's going to be a battle at some point where some companies will go under, and others will become the gold standard by which all others are measured, etc.
Until that shakedown happens, it's hard to pick the actual winning teams. Of course, by then, the potential to make money will still be there but at a much lower profit margin. That's why we back startups, right?
Inevitably, I chose to skip this one too. Not only for the reasons above but again for lack of funds to start yet another endeavor.
It has great potential, but I have to be careful that I don't spread myself too thin. I may reconsider this down the line.
Angels & Entrepreneurs
This one is a bit obvious. You're already at an A&E event. Why wouldn't a company take this opportunity to upsell you to their higher tiers?
As I would expect from any company, A&E had staff on hand to answer questions, talk about different membership levels, and even discounts for upgrading on the spot. Kudos to them. There's value in A&E and, if the higher levels speak to you, upgrading at a discount makes perfect sense.
For me, the lifetime Elite membership is the perfect fit. VIP is tempting, but for the cost, only getting two more deals a month and knowing that some of those are for accredited investors, which I am not, it didn't make sense for me to up my membership. Besides, I can take the membership fee and put it towards one or more investment opportunities.
Frankly, if A&E didn't have an upsell motive at the event, I'd be a bit skeptical and probably ask why, so it was good to see they didn't miss out on that.
Other Opportunities
Some non-angel investing opportunities were presented, as well. I'll briefly touch on them here but won't go into a lot of detail. I may also not list everyone here as I am doing this from memory…
Draganfly
Now Draganfly intrigued me. They are not taking in angle investment funds but are publicly traded on the stock market.
What's interesting about this company is that they pioneered much of the technology taken for granted today in the drone industry. Another interesting fact is that, since they manufacture in Canada and the US, and that the US has recently put a ban on all Chinese drone use for government sectors, Draganfly is poised to grow exponentially.
Legion
Legion acquires and grows technology ventures in some of the world's fastest-growing industries.
It was quite exciting, and I jumped on their mailing list to be notified when they open for investing.
Kingmakers
Kingmakers is an elite accelerator and investment fund for business buyers. We help entrepreneurs identify and acquire a great business and provide them with the tools they need to succeed post-acquisition.
Their approach is different. It's not so much an angel investment platform as it is one that finds businesses for sale, matches them up with a buyer, provides training, and helps them grow their success.
These are just examples of what I saw at the retreat. It was quite exciting.
2020 Angels & Entrepreneurs Network Retreat Recap And Review Conclusion
I don't want this 2020 Angels & Entrepreneurs Network Retreat Recap And Review to get out of hand, so I'm going to cut it off here.
While I didn't provide every detail or cover all the companies that were at the event, I think you have a pretty good idea of what it was all about and how it facilitates a better understanding of how it all works.
Let me know what you think. Did you attend? Do you have something to add? Is there something I missed that you think should be covered? Let me know by commenting below.
Thank you,
Scott Hinkle
AngelPowwow.com