Angel Investing Education
At Angel Powwow, you will learn about startups, angel investing, crowdfunding, accredited vs non-accredited investors, security types, deal terms, how to get started, and so much more! You'll even discuss opportunities with other members!
Learn More
Community Interaction
Many times, it's not what you know, but who you know that makes all the difference. Angel Powwow allows you to communicate with other angel investors, learn about new crowdfunding and startup deals, share insights and opinions, and more!
Join Now
Join For Free Now
What are you waiting for? Sign up for an account and get immediate access. You can start with the free Basic membership level to get a feel for the platform. Check Angel Powwow out for yourself and decide if the community and platform is right for you.
Join Now
Angel Powwow Offers The Angel Investing & Crowdfunding Community...
2
Forums & Deal Discussions
7
Activity Feed & Tracking
Networking
Networking
Let's face it. The investing world is all about who you know just as much as what you know, if not more.
Angel Powwow lets you build a network of fellow members, much like a social media platform. Friend others, build groups, message each other, and more!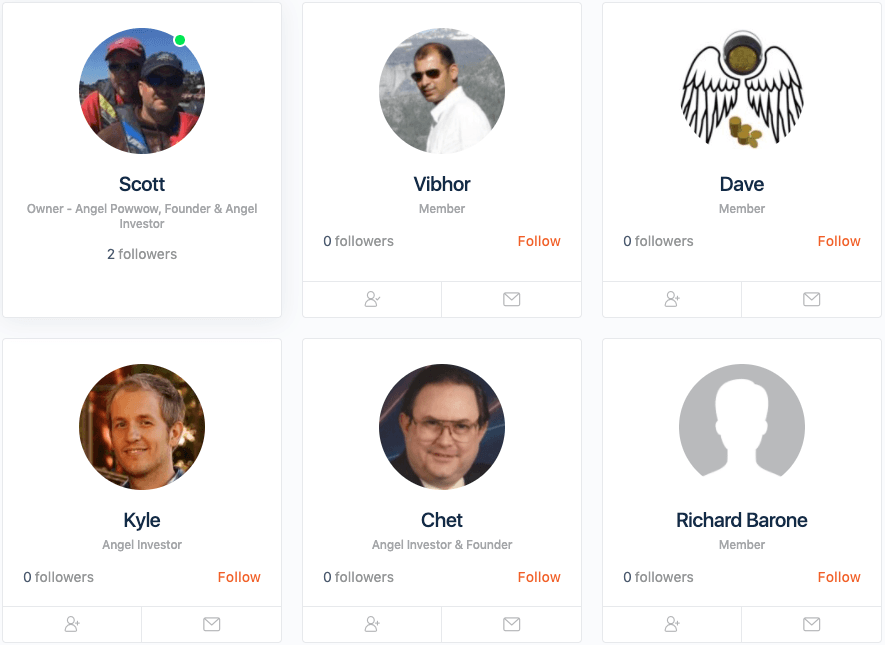 Forums & Deal Discussions
Forums & Deal Discussions
The forums are where you'll find the latest insights, updates, and opinions on various opportunities.
Browse through current startup discussions, cast your vote, and engage with others or start a new one to share with the community.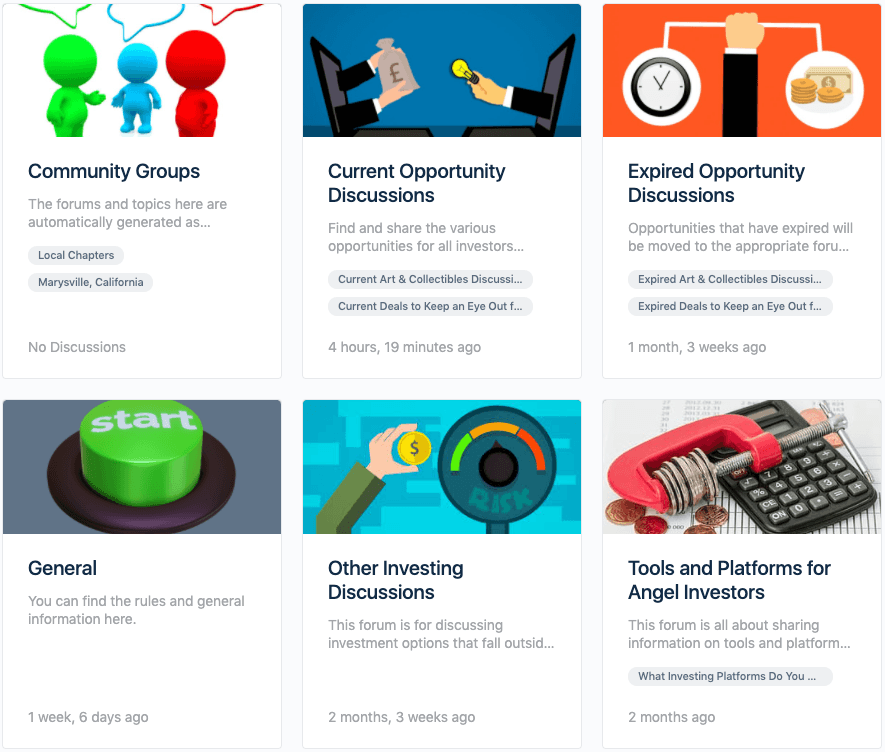 Tools
Tools
We're constantly developing tools for angel investors, including:
Accreditation Status & Investment Limit Calc
Investment Policy Creation Tool
Form C Tool
Priority By Date Tool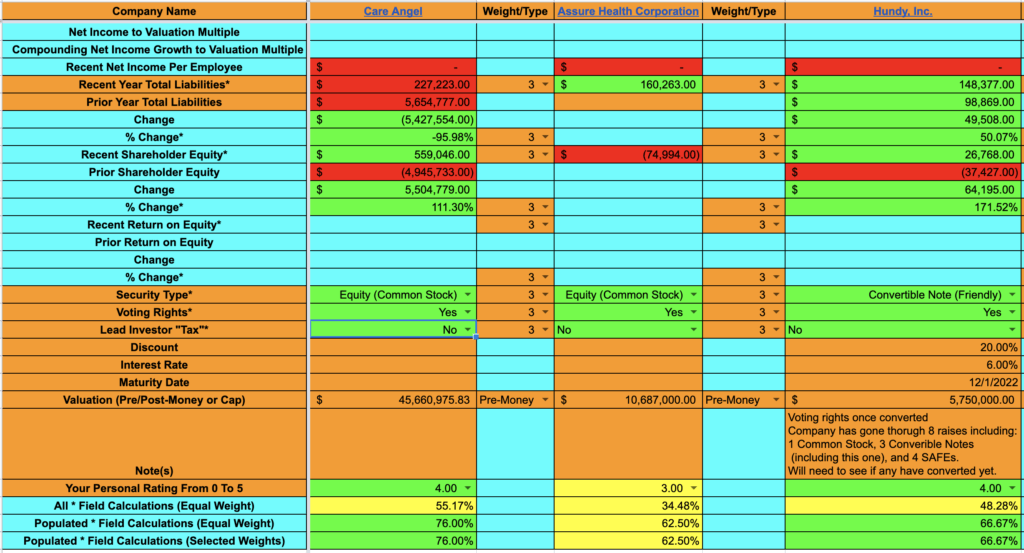 Scott's Picks
Scott's Picks
Unlike other portals, I share which deals I invest in and why.  Others tend to share various deals, but never tell you if they have a stake in them themselves.
I'm not a financial advisor, but I believe different viewpoints can help you make better informed decisions.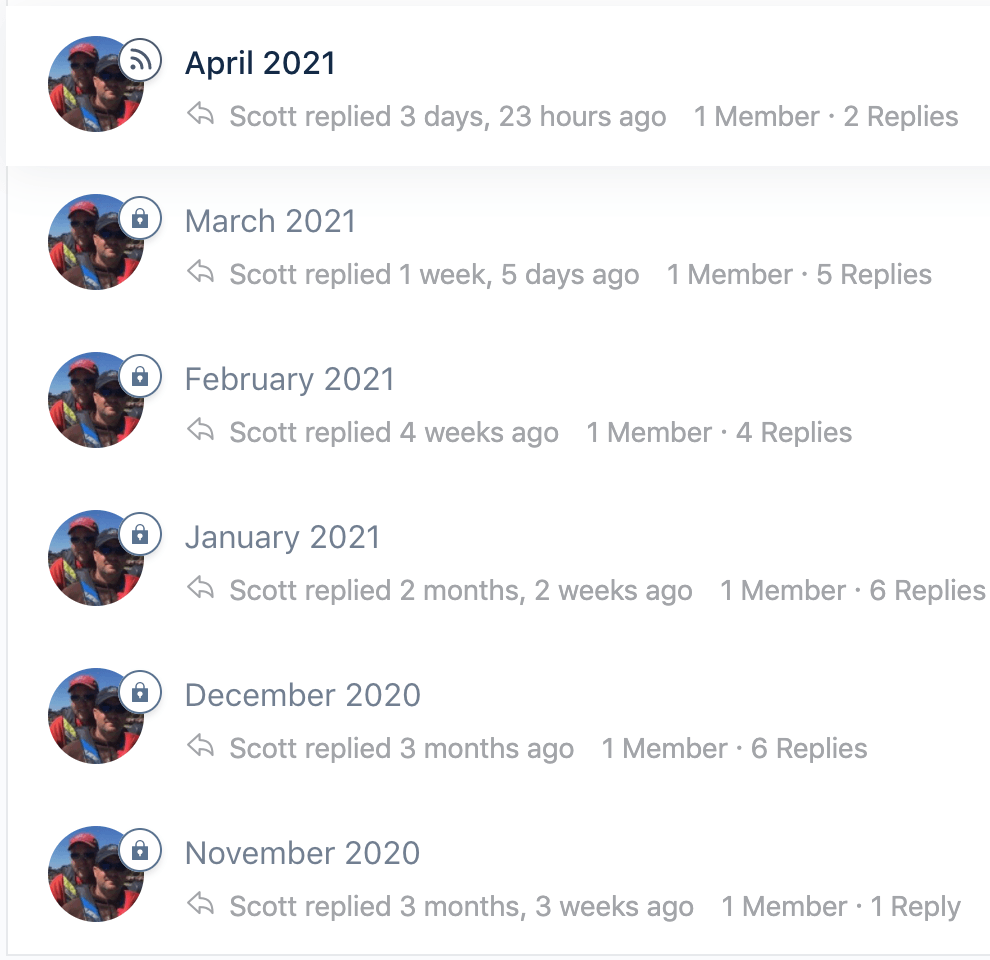 Blog Posts
Blog Posts
Angel Powwow isn't just about making connections and posting the latest deals, insights, and opinions; it's also about education, reviews, and so on.
Blog posts will be published on a regular basis to keep you informed of the latest developments, products, and more.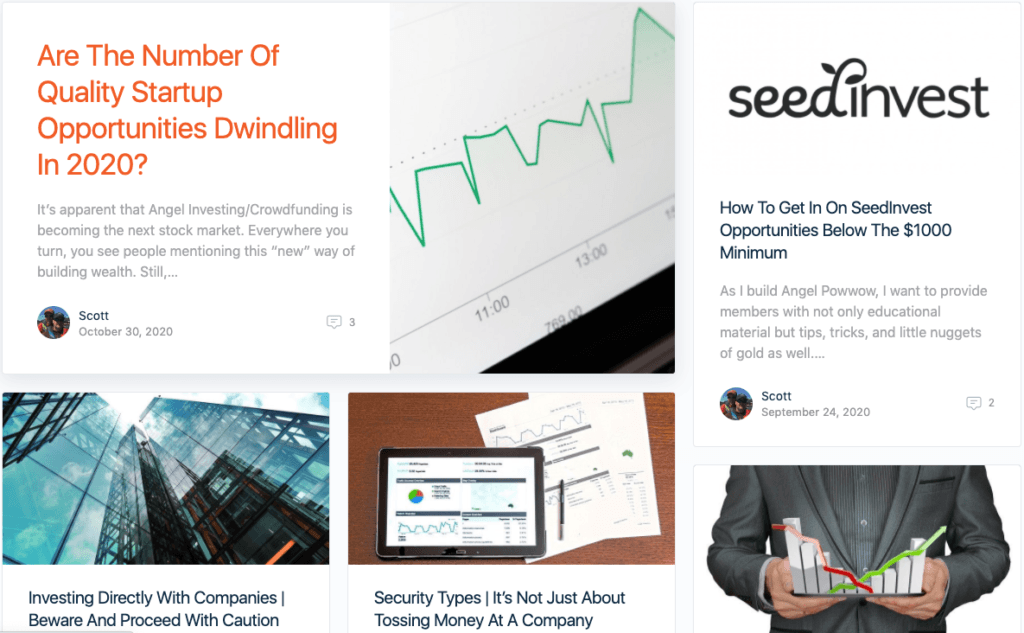 Courses
Courses
Investing in startups is a living, breathing entity.  New regulations pop up as old ones get modified.  Opportunities create brand new markets.  Tax laws change and new security types are developed.
Courses will be developed to address this ever-changing investment class.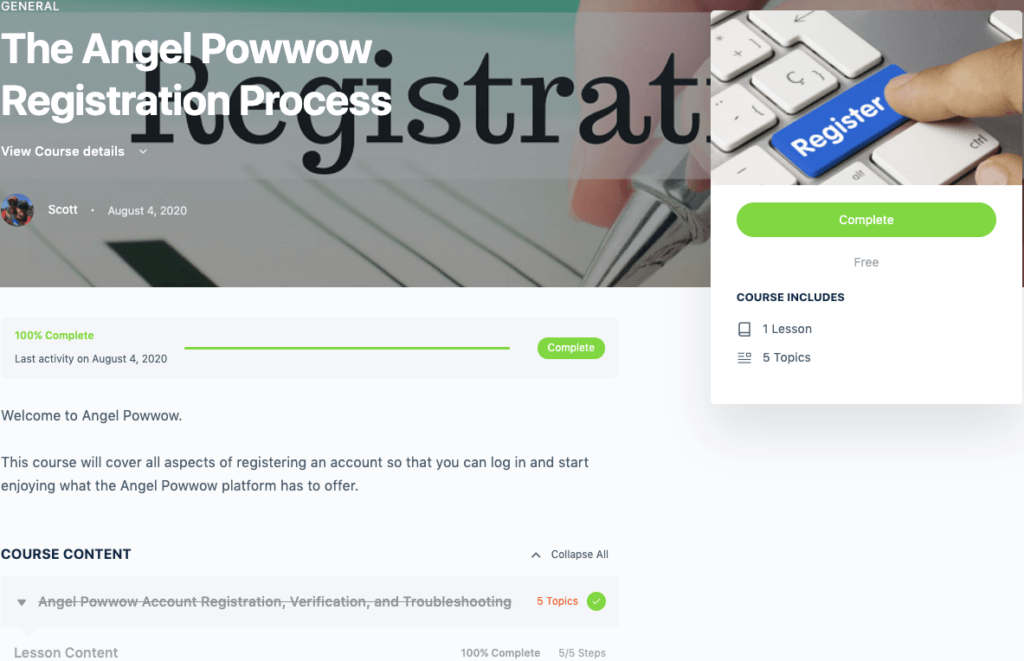 Activity Feed & Tracking
Activity Feed & Tracking
See all the activity across the Angel Powwow platform on the Activity Feed page.  View the latest discussion activity, new posts and more.
You can even follow the activities of a particular member in case you want to keep up to date on their latest actions.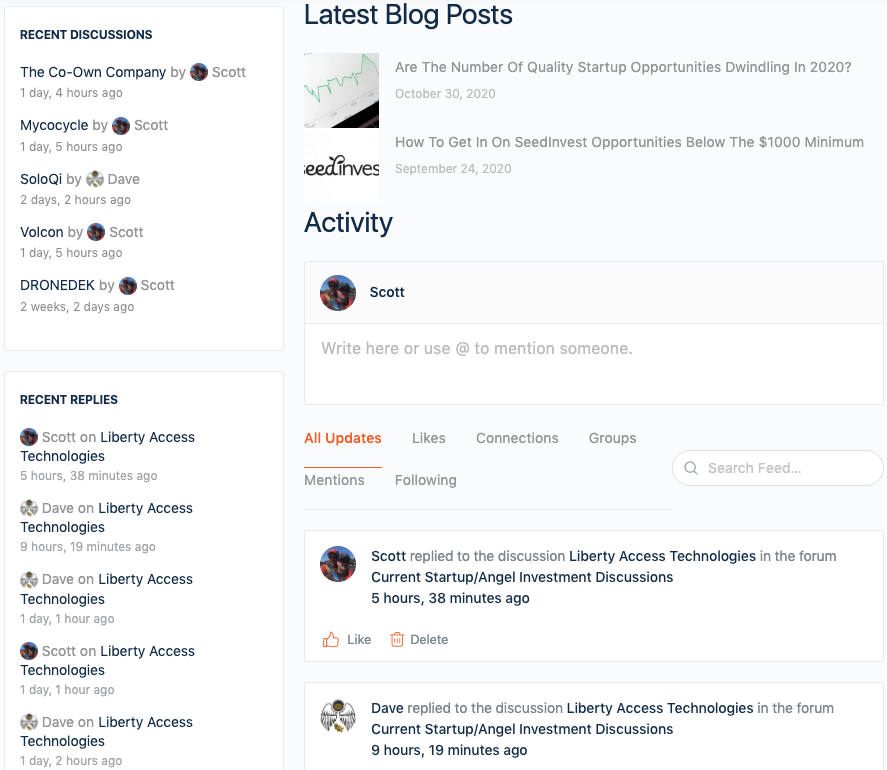 Messaging
Messaging
In addition to the forum discussions, you can converse with other members via text-based messages, similar to email.
You can comment on the Activity Feed page, which will be visible to all members, or privately message others (individually or as a group).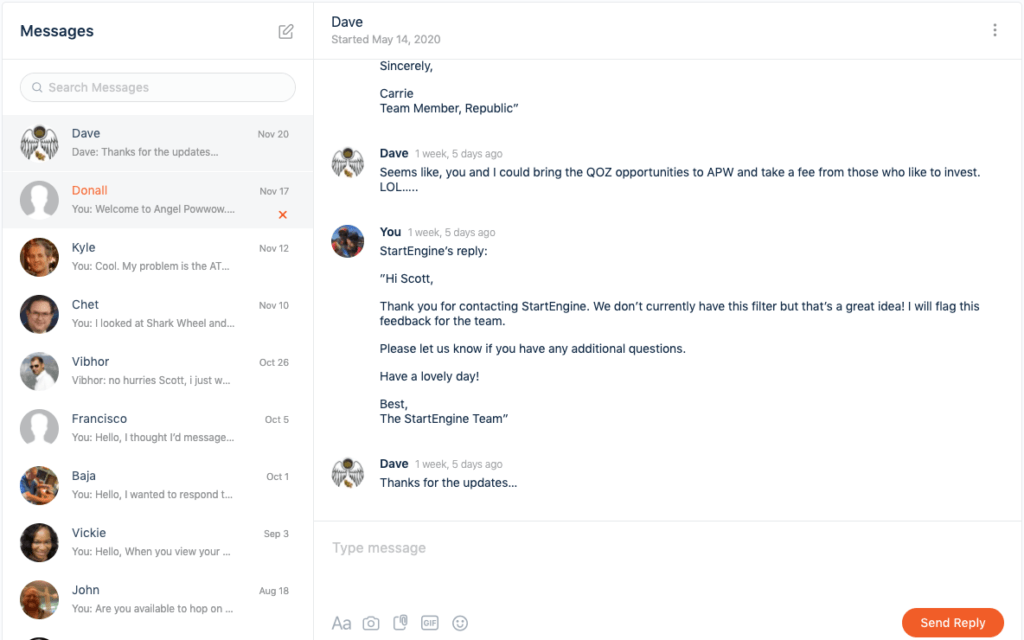 Voting
Voting
Opportunity discussions include an option for members to vote on whether or not the opportunity will be part of their portfolio.
This is a great way to gauge which startups are hot and see if there's one you might want to invest in.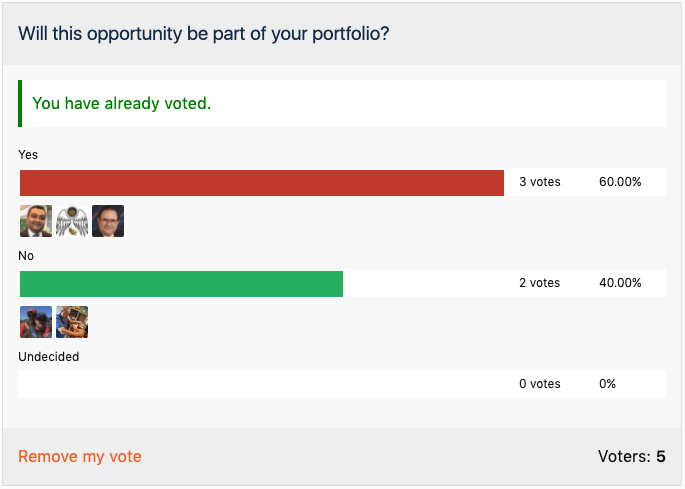 & More!
& More!
Additional features, such as the ones below, are constantly being added to the platform:
Events
Industry Experience & DiscussionTags
Groups, and more.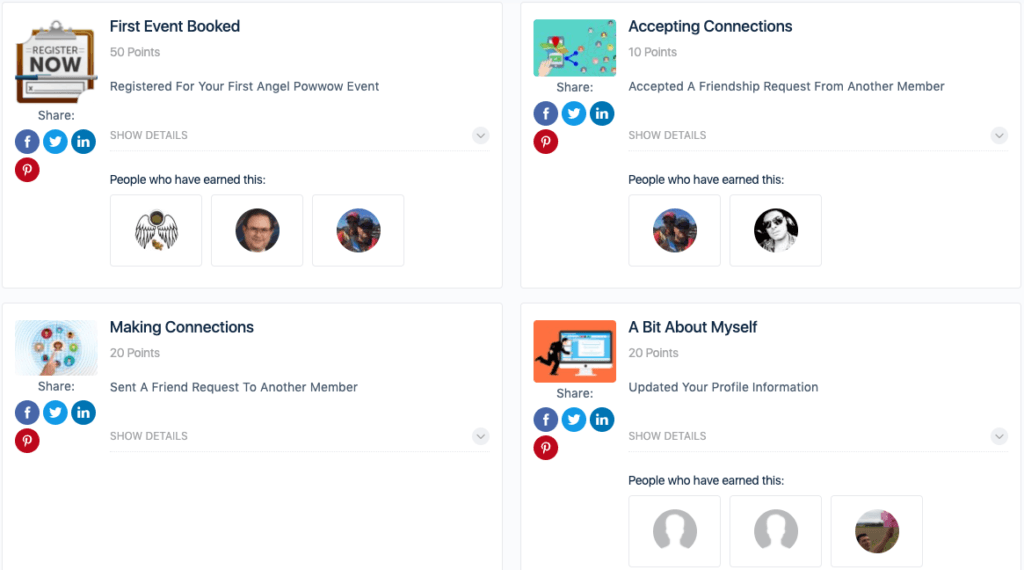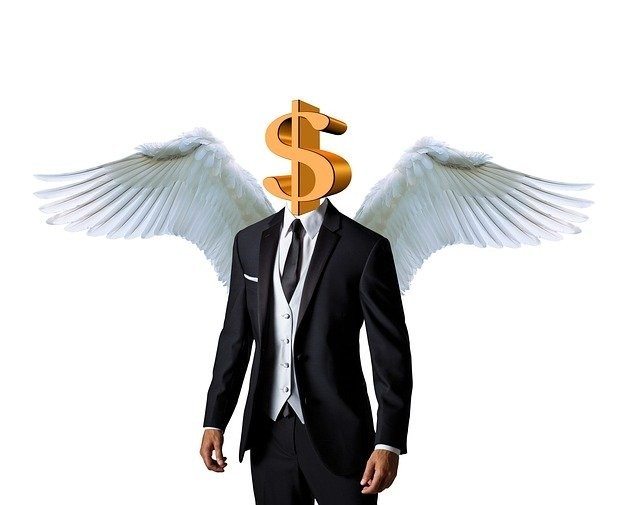 General
What is angel investing? Welcome to Angel Powwow. When I first built this site, it was intended to be the one-stop spot for all things
Read More »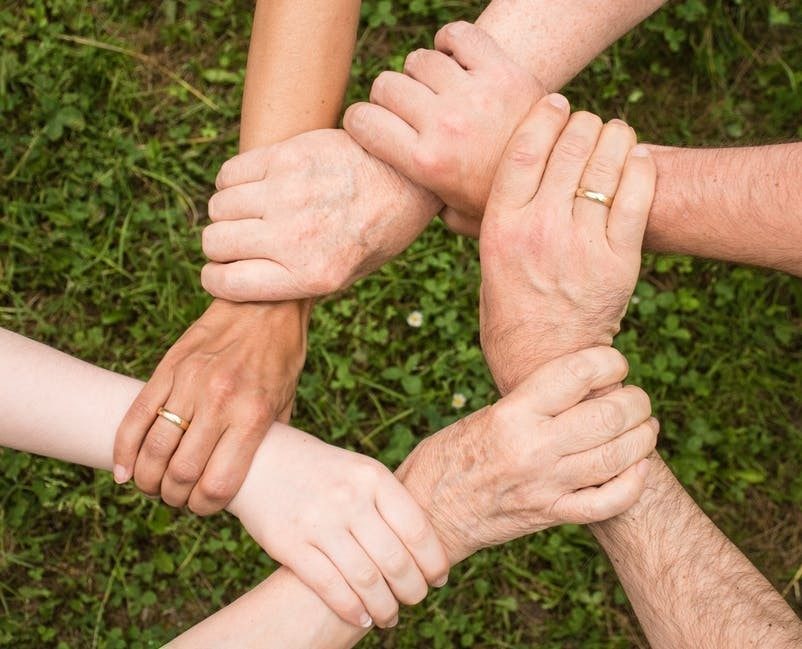 General
OK, angel investing is rather exciting. It's definitely something different from the same-ole repetition of watching the stock ticker and tossing a few bucks into
Read More »
Forum Statistics
Registered Members

35

Public Forums

26

Discussions

457

Replies

2,552

Discussion Tags

45
Create a local account using your email address or use your favorite social media account when you join.
Become a Member of the Angel Powwow Community Today!
Sign up and start collaborating with other angel investors right away. There are multiple ways to share ideas and opinions via live chat, member forums, and private messaging. Learn more about angel investing and discover new opportunities.